Stayin' Alive
Disco' and Karaoke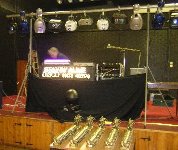 One of the best in Eastern England!
Wedding Receptions - Birthday Parties - Club Functions - Special Occasions
About Us
Our Area
Disco'
Karaoke
Bookings
Comments
Contact Us
Sorry but this is not a Garage, Hip-Hop, Rap or R'n'B style disco
AddMe - Search Engine Optimization
Site copyright © John Bowman, 2007.
Design by Steve Smy, 2007.